A new report says Alberta continues to be the top choice for immigrants who move to Canada. In the past ten years, 436,766 people moved to Alberta from abroad - about 36,000 people per year, says ATB Financial's Economics & Research Team. Their study shows 88% of people who moved to Alberta from another country were immigrants, rather than people returning to Alberta after living abroad, as depicted in the ATB chart below.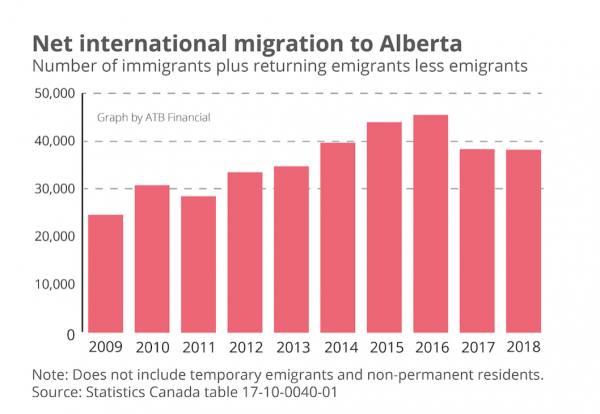 Immigrants are thriving in Calgary and Edmonton, Alberta, and provide better economic opportunities to immigrants than other parts of the country. The Alberta Immigrant Nominee Program (AINP) supports Alberta's economic growth by attracting and retaining work-ready people to the province. In March 2018, AINP introduced a Request for Consideration for candidates who have had their Alberta Provincial Nominee application rejected to reapply.
The Alberta Immigrant Nominee Program is a path to working and living in Alberta permanently. AINP qualifications include:
a valid temporary resident status in Canada that authorizes you to work in Canada, such as a temporary foreign worker
a valid work permit for an eligible occupation
Post-Graduation Work Permit holders must meet additional education and occupation requirements
work in an occupation that matches your previous work experience
minimum of 4 for each English OR French language skill
a minimum of high school education in your country of origin
a minimum of 12 months full-time work experience in your current occupation in Alberta within the last 18 months; OR a minimum of 24 months of full-time work experience in your current occupation in Canada and/or abroad within the last 30 months
have a bona fide full-time job offer or employment contract from an Alberta employer to work in your current occupation in Alberta
Note: The AINP selection criteria for language and education will increase through 2021.
Calgary immigration lawyer Evelyn Ackah says Alberta is open and welcoming to newcomers and immigrants who can help build a stronger economy:
Alberta needs highly skilled and educated immigrants who can fill tech jobs and start businesses and employ other Albertans, and Alberta has put programs in place to help newcomers assimilate into life in Alberta. We also need to attract workers to fill jobs in our rural areas, and for jobs such as farmers and truck drivers.
Learn More: