On June 19, 2017, Canada's Bill C-6 passed Parliament. The new law is more flexible and simplifies and streamlines the process for immigrants to become Canadian citizens and assures all Canadian citizens are treated equally. Bill C-6 is an amendment to Canada's Citizenship Act and will benefit thousands of immigrants in Canada.
Immigration lawyer Evelyn Ackah explains, "The changes passed in Bill C-6 returns the Canadian Citizenship law back to what it was before the changes by the previous conservative government."
Immigration, Refugees and Citizenship (IRCC) Minister Ahmed Hussen said Wednesday that the new requirements will make the path to join the "Canadian family" easier and more flexible:
"As a country that's committed to the settlement and integration of newcomers successfully so they can restart their lives and make contributions to our society, we have to ensure the path to citizenship for permanent residents."
The following Citizenship Act changes come into effect on October 11 2017:
Physical presence in Canada is required for three out of the last five years before applying for Canadian citizenship.
A portion of time spent in Canada before permanent resident status will count toward residency requirements, which will give credit to temporary workers and students.
Age range for language and knowledge requirements for Citizenship is reduced to 18-54 years old.

A Canadian is a Canadian is a Canadian
~ Prime Minister Justin Trudeau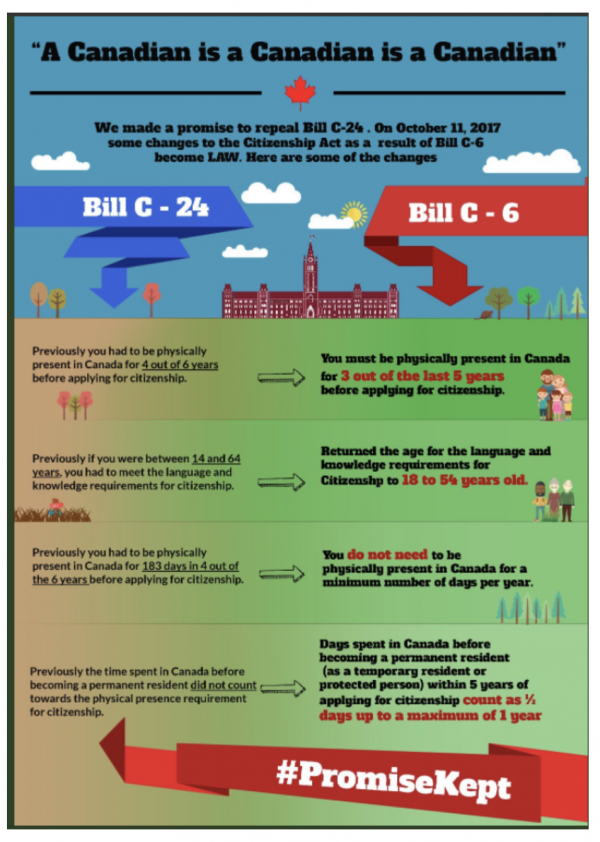 More information on the new citizenship application process is on the IRCC website, and new the forms will be available online Oct. 11, 2017.