Immigration Lawyer Evelyn Ackah Answers Your Questions about Canada Spousal Sponsorship and Work Permits
Canada places a high priority on family reunification immigration. The Family Class Application is a way for a permanent resident or citizen of Canada to sponsor their spouse or common-law partner to immigrate to Canada.
Open Work Permit Pilot for Spouses and Partners Extended
On January 30, IRCC extended the open work permit pilot program for in-Canada family class spouses and common-law partners applying for permanent residence until July 31, 2020. More information is available here.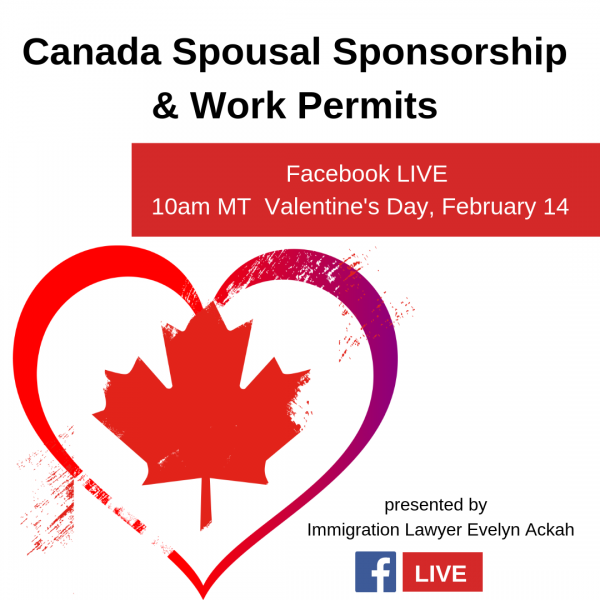 How to Bring Your Spouse or Partner to Canada:
Do you have questions about spousal sponsorship? Immigration lawyer Evelyn Ackah will answer your questions about spousal sponsorship to Canada on Facebook Live. We will be talking about spousal sponsorship, conjugal sponsorship and all things spousal immigration on:
Immigration lawyer Evelyn Ackah will answer your questions on Facebook Live about spousal sponsorship to Canada including:
Who Can Apply to Sponsor Their Partner to Move to Canada
Spousal Immigration Sponsorship Requirements
Conjugal Partner Sponsorship Requirements
Common Law Partner Sponsorship Requirements
Same-Sex Partner Sponsorship Requirements
Spousal Open Work Permits
Note: If you're not able to watch live, the video will be available on our Facebook page: Ackah Business Immigration Law.
Learn More: 3 Ways Your Foreign Partner Can Join You in Canada