Canada is a very attractive option for high-tech and IT immigrants. Many highly skilled and educated people see Canada as a desirable immigration destination. Canada is actively recruiting skilled and educated immigrants to help build the economy and create jobs and has created many programs to attract tech immigrants to Canada.
Do You Have Questions About Tech Visas to Canada?
Immigration Lawyer Evelyn Ackah will be answering your questions about tech visas to Canada on Facebook Live @AckahBusinessImmigrationLaw on March 13, at 10am MT.
If you have a question about Canada tech visas, leave a Comment on our Facebook page, and Evelyn will try to answer it March 13.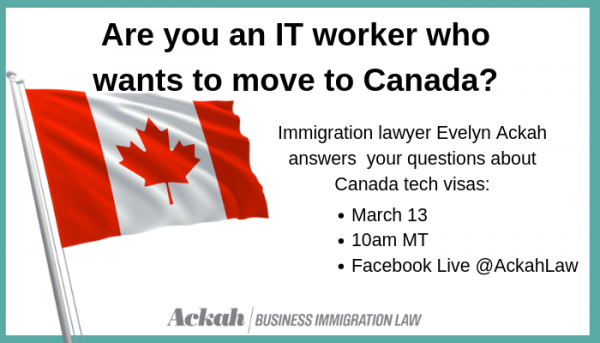 Canada's immigration system IRCC implemented a new work stream Global Talent Stream Skills Strategy to help Canadian employers get the highly skilled foreign workers their businesses need. Immigration lawyer Evelyn Ackah explains,
The Global Skills Visa is a new work stream established by IRCC which allows certain highly-skilled foreign nationals to obtain priority processing with a target of two-weeks to obtain their work permits. This is a new strategy to help employers recruit the high-skilled workers they require. The stream delivers three benefits:

80% of work permit applications will be processed within two weeks of submission
work permit exemptions will be granted to highly-skilled workers on short-term work assignments - these exemptions will also cover researchers involved in short-term research projects in Canada
Provision of a dedicated service channel for companies intent on large job-creating investments in Canada
U.S. Approval Rate Declines for H-1B Visas
U.S. policies that went into effect on September 11, 2018, make it much more difficult for foreign tech workers to be approved for a U.S. Work Visa. Many highly-skilled foreign workers who want to move to the United States for tech jobs are finding it difficult to get an H-1B Visa. According to the Wall Street Journal,
The Trump administration is demanding supporting evidence in many more applications for coveted H-1B visas for high-skilled foreign workers, and denying more petitions.
Learn More: