Global mobility and the need for a skilled and educated workforce has resulted in more businesses - both small business and large companies - who want to hire foreign workers to fill jobs and help grow their business. Many of the technical and specialized skills companies need cannot be filled locally, so companies are sourcing skilled workers, managers and executives who have the training and experience that is not available in their local workforce.
Talented workers are available around the globe, but sourcing overseas talent can be time-consuming and unfamiliar. Recruiting, hiring and relocating foreign workers can be very challenging. Many businesses outsource to an executive search firm and an international relocation company to source qualified global candidates, assess their eligibility for an international move, process their visa and coordinate an international relocation. Many employers can't wait the 4 - 6 months it typically takes to process an immigration application, and need strategic solutions to streamline the process of hiring foreign employees.
An experienced immigration lawyer is a key resource
for global executive search firms to get qualified employees
in place quickly to begin their new role.
As a law firm that exclusively practices immigration law, Ackah Business Immigration Law is focused on helping businesses and individuals get the results they need quickly and smoothly. Ackah Law's expertise in handling complicated cross-border business immigration cases, experience in working with international executive search firms and skill at trouble-shooting delays and unexpected obstacles smooth the way for new employees to begin their assignment place as quickly as possible:
Expedited Work Visas

NAFTA, CETA, GATS, CCFTA Criteria

Intra-Company Job Transfers

LMIA Assessment, Delays and Obstacles

High Wage Foreign Worker Exceptions


Technology Worker Programs

Express Entry

Global Talent Stream

Spousal Work Visas

Business Visitors

Government Workforce Recruitment Programs
International Co-Op and Professional Visas

Canada and NAFTA U.S. immigration lawyer Evelyn Ackah on cross border business immigration:
A global talent acquisition strategy isn't just sourcing the right employees - it requires expertise in qualifying their eligibility, processing their immigration application and streamlining the process of crossing borders.
Hiring Foreign Workers
Often employers cannot find a local qualified job candidate, yet cannot wait the four to six months it typically takes to process an immigration application. Delays cost money, and critical business deadlines can be missed. An experienced immigration lawyer understands what to do - and what not to do - to streamline the immigration application and approval process.
Case Study:
An international film festival in Canada needed to hire an artistic director. When there was not a local candidate, they identified an American candidate. Ackah Law was able to process their LMIA and skilled foreign worker permit with 3 weeks. The new employee's spouse was able to move to Canada with a work permit just 2 months later.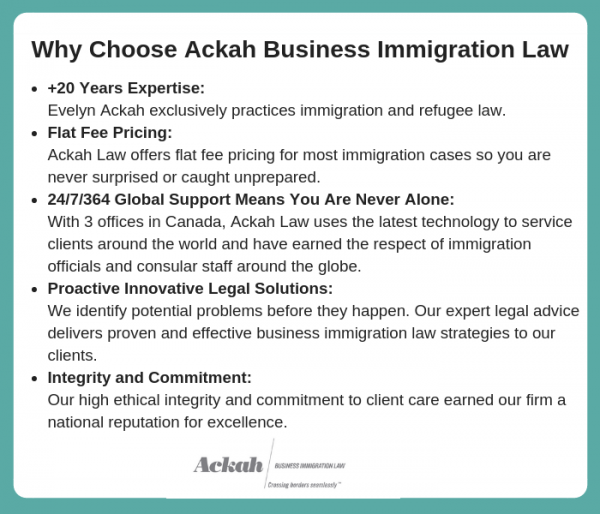 Evelyn Ackah, founder and managing lawyer at Ackah Business Immigration Law, and the Ackah Business Immigration Law team will work closely with your team throughout the entire immigration process.
Contact Ackah Business Immigration Law
Calgary: (403) 452‑9515 Vancouver: (604) 985‑9512 Toronto: (416) 643‑7177
North America: 1 (800) 932-1190