Recent changes to Canada's international travel laws have caused confusion for visitors to Canada as well as travelers with connecting flights in Canada, but do not intend to visit Canada.
Effective March 2016, the Government of Canada (IRCC) requires anyone traveling through Canada must apply for an Electronic Travel Authorization (eTA) to fly or transit through a Canadian airport; which costs $7 CAD. According to IRCC, most people need a visa or an Electronic Travel Authorization to travel to Canada; some may only need a valid passport.
Canadian dual nationals must travel with a valid Canadian passport. If their plane leaves within 10 days, they must apply for a special eTA to travel with their passport from a visa-exempt country.
Australian travel host Drew Arellano posted on Instagram (and has over 6000 Likes!) that his wife and mother-in-law were traveling to New York City with a layover in Vancouver, but were detained and not allowed to board their flight because they did not have an eTA. To make it worse, when they attempted to file for an eTA online, the CIC website was down and they couldn't get their boarding passes. As a result, they missed their flight and had to pay "hefty rebooking fees."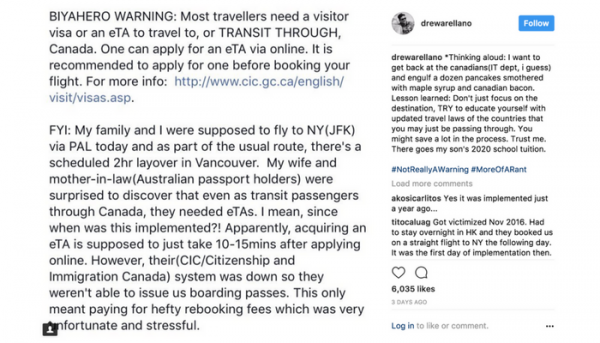 Do You Need an eTA for Travel To or Through Canada?
Find out if you need a visa or an Electronic Travel Authorization to travel to Canada. Some people may only need their valid passport. The IRCC website has an online tool to help you determine what travel documents you need to travel to or through Canada.