Updated Oct 2, 2018:
Since the U.S.MCA agreement was announced late September 30, new details have emerged on cross-border business. TNs (Trade National visas) covered in NAFTA Chapter 16, which let Canadian businesses hire skilled American and Mexican workers in more than 60 professional categories on temporary work permits, were not significantly changed. Skilled professionals and business people from Mexico and the U.S. can work in Canada with 3-year temporary work permits that can be renewed. Canadian employers who hire professionals via the new NAFTA, U.S.MCA, are not required to submit a Labour Market Impact Assessment (LMIA), which is normally required to prove no Canadian can fill the position.
Canadian professionals can continue to be hired by employers in the United States and Mexico under U.S.MCA.
U.S.MCA proposes a 16-year agreement, renewable following a six-year review. Ackah Law will monitor and update U.S.MCA news until the agreement is ratified, most likely in late November.
Late Sunday, Canada and U.S. negotiators brokered a deal to replace NAFTA. Expected to be named the United States-Mexico-Canada Agreement, U.S.MCA, it will give U.S. dairy farmers greater access to the Canadian market, while for Canada the pact appears to include a guarantee against U.S.-imposed tariffs in the automotive sector.
The markets are pleased with the new U.S.MCA deal: The Canadian dollar rose 0.8 percent to 1.2799 per U.S. dollar after the deal was made public. Once the agreement is signed into effect,, the 24-year-old NAFTA will be superseded by U.S.MCA in a region that trades more than $1 trillion annually. Canadian Prime Minister Justin Trudeau called it a "good day for Canada & our closest trading partners."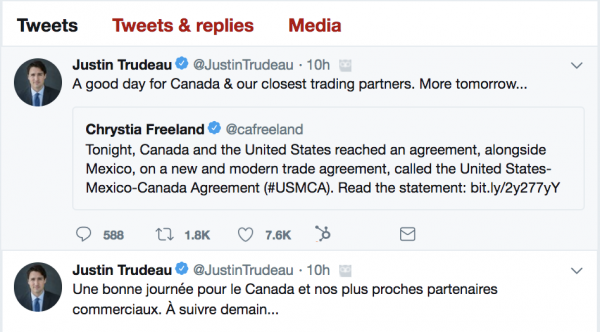 Immigration lawyer Evelyn Ackah explains,
Because of NAFTA, Canadian professionals can go to the United States and work in TN status, and it provides career opportunities for Americans to work in Canada. The new U.S.MCA agreement that will replace NAFTA is important to cross-border business. Immigration rules and regulations can be frustrating, confusing, stressful, inefficient and always changing. We will be watching as the new agreement details are made public, and proactively advising our clients how the new regulations will impact their business. At Ackah Law, our goal is to simplify and expedite the immigration process and help open doors to new opportunities.
NAFTA and Cross-Border Business
Details of the U.S.MCA deal are not yet published. NAFTA is an important cross-border business agreement that allows those who are citizens of the U.S., Mexico and Canada to quickly and easily enter the member countries for investment or business reasons, or temporary employment. Non-member citizens must obtain a Labour Market Impact Assessment and obtain a work permit in order to work in Canada. Those who qualify under NAFTA only need to meet the standard rules for admissibility into Canada.
Learn More: